William Morris (1834-1896)
Morris manuscripts can usually be recognised by the booklabel added posthumously. But the label has been removed from some manuscripts, and has perhaps been added to others which never belonged to him. It was not added to those he disoposed of during his life.

When there is no booklabel, it may be possible to recognise a Morris manuscript by the inventory number, with an oblique stroke below it, in the top left corner of the upper pastedown or flyleaf; '62' in the previous example, '104' in the following one: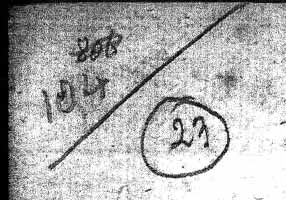 Dr William Stoneman of the Houghton Library, Harvard, has compiled a list of the pre- and post-1898 provenance of all the Morris manuscripts in the sale. He is aware of the present whereabouts of all except those listed below.
| | | | | | | |
| --- | --- | --- | --- | --- | --- | --- |
| 1898 lot no. | Ellis no. | Text | Cent. | Country | No. leaves | |
| 35 | | Bible | 14 | Fr. | 593 | 46 lines, 2 cols. |
| 36 | 25 | Bible | 14 | Ital. | 436 | 54 lines, 2 cols. |
| 37 | 20 | Bible | 14 | Fr./Eng. | 632 | 44 lines, 2 cols. |
| 38 | | Bible | 14 | S. Fr.? | 387 | 52 lines, 2 cols. |
| 52 | 31 | Breviary, use of Chalons sur Marne | 14 | Fr. | 476 | 44 historiated initials |
| 118 | 2 | Ambrose, Opera: De obitu fratris, etc. | 15 | | 86 | 4 historiated initials |
| 125 | 4 | Antiphonary, use of Rome | 13 and 15 | Ital | 180 and 236 | |
| 126 | 5 | Apocalypse, trans. Fredericus of Venice, with gloss of N. de Lyra | 14 | Ital. | 169 | Miniature, roundels, ill. inits. |
| 171 | 23 | Bible | 14 | Fr./Eng. | 368 | 54-57 lines, 2 cols |
| 306 | 29 | Boethius; Vitruvius | 11; 12 | Eng. | 67; 73 | Medieval boards |
| 342 | | Carta del testamento de gabriel Luys de Sevilla | 1595 | Span. | | Deacessioned by Wellcome in 1945 |
| 371 | | Comestor, Hist. Scol. | 14 | Fr. | 278 | 43 lines, 2 cols. |
| 439 | 50 | Horae | 15 | Flem. | 235 | 'Wm. Morris ... July 4th 1895' |
| 470 | 43 | Gregory, Moralia | 12 | | 732 | 5 vols., 29-31 lines |
| 513 | 69 | Glossed Pauline Epistles | 11? | | 164 | Cockerell; 'MCCCCXXVII' on last leaf |
| 522 | | Evangelistary, noted | 13 | Eng? | 217 | |
| 720 | 52 | Indo Persian Drawings | | | | |
| 784 | | 4 Missal leaves | 14 | | | Each with a hist. init. |
| 867 | | Psalter | 13 | Germ? | 152 | Lacks Beatus |
| 912 | 64 | J. de Muris, Theorica proportionum musicalium ... | 15 | | 16 | Cursive script in black, red, and blue; diagrams |
| 972 | | Psalter | 14 | Eng. | 141 | 8 hist. inits.; ex lib. Howel Wills |
| 1023 | 88 | NT and Hebrew names | 13 | Eng./Fr. | 90 | |
| 1061 | 84 | Coustumez du Baillage de Senlis | 15 | Fr. | 59 | On paper |
| 1137 | 83 | Statuti regni Angliae | c.1446 | Eng | 271 | Signed & dated by Morris, 1891 |
Last updated 26/11/02